The Sweden Unlimited Crewneck Sweatshirt
by Printify
Regular price

$33.33
Sale price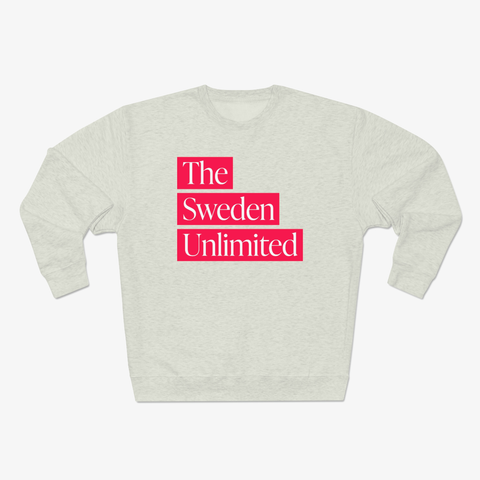 Richard here. The thinking behind using the word "the" in front of a company or band name has always interested me. It is primarily a matter of personal preference and stylistic choice, but also a trend or a collective unconscious thing. For example, in the 1960s, most bands were "The Something... The Beatles, The Rolling Stones, The Small Faces, and The Who; but then, in the 2nd wave of British music, they all left off the "The" (except, of course, The The, but they are not Brit-Pop) like BLUR, PULP, OASIS, SUEDE, ELASTICA, and RADIOHEAD.

There is no hard and fast rule for whether or not to include the word "the" in a band name, and different artists and companies have made other choices based on various factors. Obviously, with the Brit-pop wave, it would have been way too 1960s to have the "the" in front of your name. It just sounded more modern to be sans "the." Hey Richard Ashcroft! Why you got to be the odd one out? I know, "I can't change my mold."

It also may depend on factors such as the style of music, the intended audience, or the desired image or aesthetic of the band or company. For example, some bands and companies may choose to include "the" in their name as a nod to tradition or to pay homage to their influences, while others may leave it out to create a more distinctive or modern identity.

In some cases, I feel the word "the" is used to add emphasis or make the name more distinctive. For example, a band called "The Beatles" might not be as memorable or recognizable as "Beatles." In this case, adding "the" gives the name a unique and identifiable quality.

Or it could convey the idea that this entity is THE one and only. So that is my thinking with this design. We started as a one-name band, SWEDEN. When the band members decided to start a company adding UNLIMITED to the end helped convey an ironic corporate-ness. Now 23 years later, we really are the one and only SWEDEN UNLIMITED, but there have been a few SWEDEN UNLIMITED-like companies in our wake. But we are the original. So this design is a not-so-subtle reminder that we are THE SWEDEN UNLIMITED.


80% combed ringspun cotton, 20% polyester
Medium-heavy fabric (8.2 oz /yd² (280 g/m²))
Regular fit
Tear away label
Runs true to size