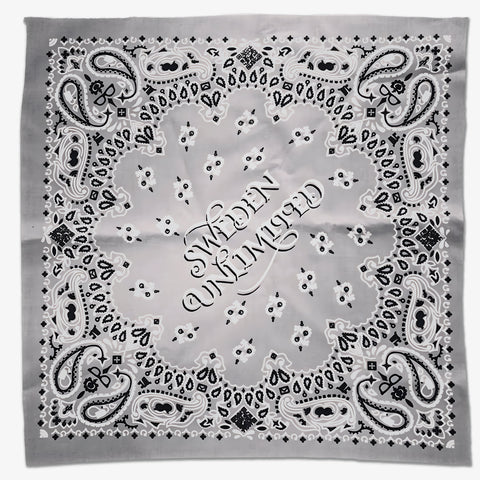 Introducing our signature bandana design--a piece of art crafted by the minds here in Sweden Unlimited! This modern paisley pattern features all your favorite internet icons, so you can bring a bit of cyber-style to wherever life takes you. Let this multi-faceted accessory take care of whatever look or situation is calling: tie it around you dog's neck, wear it around your ankle for that 1980s look, rock some Billy Idol swagger with a wrist wrap, even stow it away discreetly in your pocket...it's up to you! Coolness awaits.
Bandanas have an ancient history that dates back centuries - all the way to pre-colonial South Asia and Middle East! The bandana's roots can be traced back to Sanskrit, an ancient Hindu language in which 'badhnati' means "binds or ties". This name eventually evolved into its current iteration after passing through Portuguese hands. Amazingly, it took hundreds of years for this humble piece of fabric to hit English shores around the mid-eighteenth century as 'bandannoe', before finally becoming known simply as a 'Bandana'!
The printing of bandanas with colorful designs and patterns became popular in the 19th century, when advances in printing technology made it possible to produce intricate designs on a large scale. The popularity of printed bandanas continued to grow in the 20th century, as they became a popular accessory in American culture, often worn as a fashion statement or as a symbol of affiliation with a particular group or subculture.
In the 1970s and 80s, the use of bandanas as a signaling device among the gay community was a common practice. The color of the bandana would indicate a particular sexual preference or interest, particularly in the context of cruising or looking for sexual partners.
The bandana code had various meanings depending on the color and placement of the bandana. Some of the more common colors and their corresponding meanings include:
🟥 

Red: indicating a preference for fisting or BDSM.

🟨 

Yellow: indicating a preference for watersports (urine play) or urophilia.

⬜️ 

Grey: indicating a preference for bondage or restraints.

⬛️ 

Black: indicating a preference for BDSM or a dominant/submissive dynamic.

🔷

Light Blue: indicating a preference for oral sex.

🟦 

Dark Blue: indicating a preference for anal sex.

🟩 

Green: indicating a preference for outdoor sex or exhibitionism.

🟧 

Orange: indicating a preference for anything goes, or no specific preference.
It's worth noting that the use of the bandana code has decreased over the years, and its use is not as widespread as it once was. Additionally, the meanings and associations of each color may vary depending on the individual or local community. What will it symbolize for you?