SWEDEN SAYS REFRESH: The Choose Sweden Tee
by Printify
Regular price

$22.22
Sale price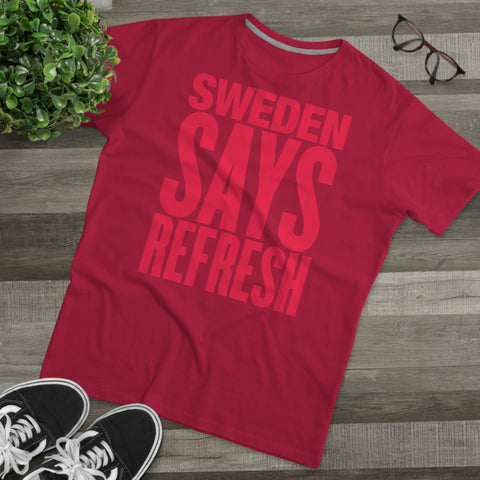 Looking to make a statement? Step into the spotlight with our Katharine Hamnett-inspired t-shirts. Our slogan tees are modeled after the iconic designs that made George Michael CHOOSE LIFE and allowed Freddie Goes To Hollywood in 1984 to convey that they wanted everyone to RELAX if they wanted to GO TO IT!

Katharine Hamnett's iconic slogan t-shirts have made a lasting impression on popular culture. In 1984, she debuted her 'Choose Life' slogan – an anti-drug abuse and suicide message – which quickly became popular after it was seen in the music video for Wham! 's hit single 'Wake Me Up Before You Go-Go'.

The slogan directly challenged the political landscape of the time; Ronald Reagan and Margaret Thatcher were in office, AIDS wasn't discussed in public yet, and there was little focus on mental health care or social welfare. Nevertheless, Hamnett managed to make her point succinctly, encouraging people to make better choices in their lives by simply choosing life.

The Choose Life slogan t-shirts have become a classic of popular culture, with its message standing the test of time. They remain a reminder of the power of fashion to make bold political statements, even in the most challenging and hostile environments. The slogan tee was revolutionary at the time and is still relevant today.
100% ringspun cotton 
Light fabric (4.7 oz/yd² (160 g/m²))
Regular fit